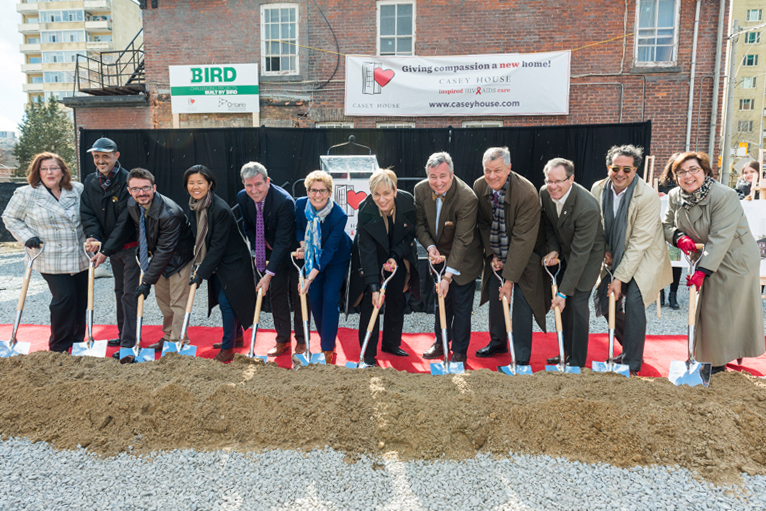 On Monday, March 30, hundreds from the Casey House community came together for a very special groundbreaking ceremony to mark the start of construction on the new 58,000-square-foot home for compassionate HIV/AIDS health care at the corner of Jarvis and Isabella Streets.
Click here for video
The redevelopment project will include the restoration of the William R. Johnston House, built in 1875 and affectionately called "The Grey Lady," and includes a 3 storey addition, with a partial 4
th
floor, which will stretch to the rear of the site along Isabella Street. This extension will allow Casey House to more than double the current care capacity and introduce a new Day Health Program, as well as consolidate all administrative functions in one building. The award-winning design will ensure that Casey House clients will continue to be served with excellence and compassion in a beautiful and home-like environment, in keeping with the vision of its founders. Said Premier
Kathleen Wynne
, "
Our government is proud to support this project, and to build on Casey House's history of care and compassion.... I think that all of us who have lost people we cared about to this disease are thinking about them today, so I want to acknowledge all the people who you're all thinking about
." "Let's recognize as we break ground today that it's the beginning of so many new things that we have to keep on working to ensure that there aren't gaps in care," said Toronto-Centre MPP
Glen Murray
. "
We have to work to ensure that people are not marginalized, that people never have to go through what we went through in those early days, and that we never forget where we came from, so that we never ever give up the fight
." Casey House's new home is slated to open at the end of 2016 Follow the links below for more information and media coverage of the groundbreaking: