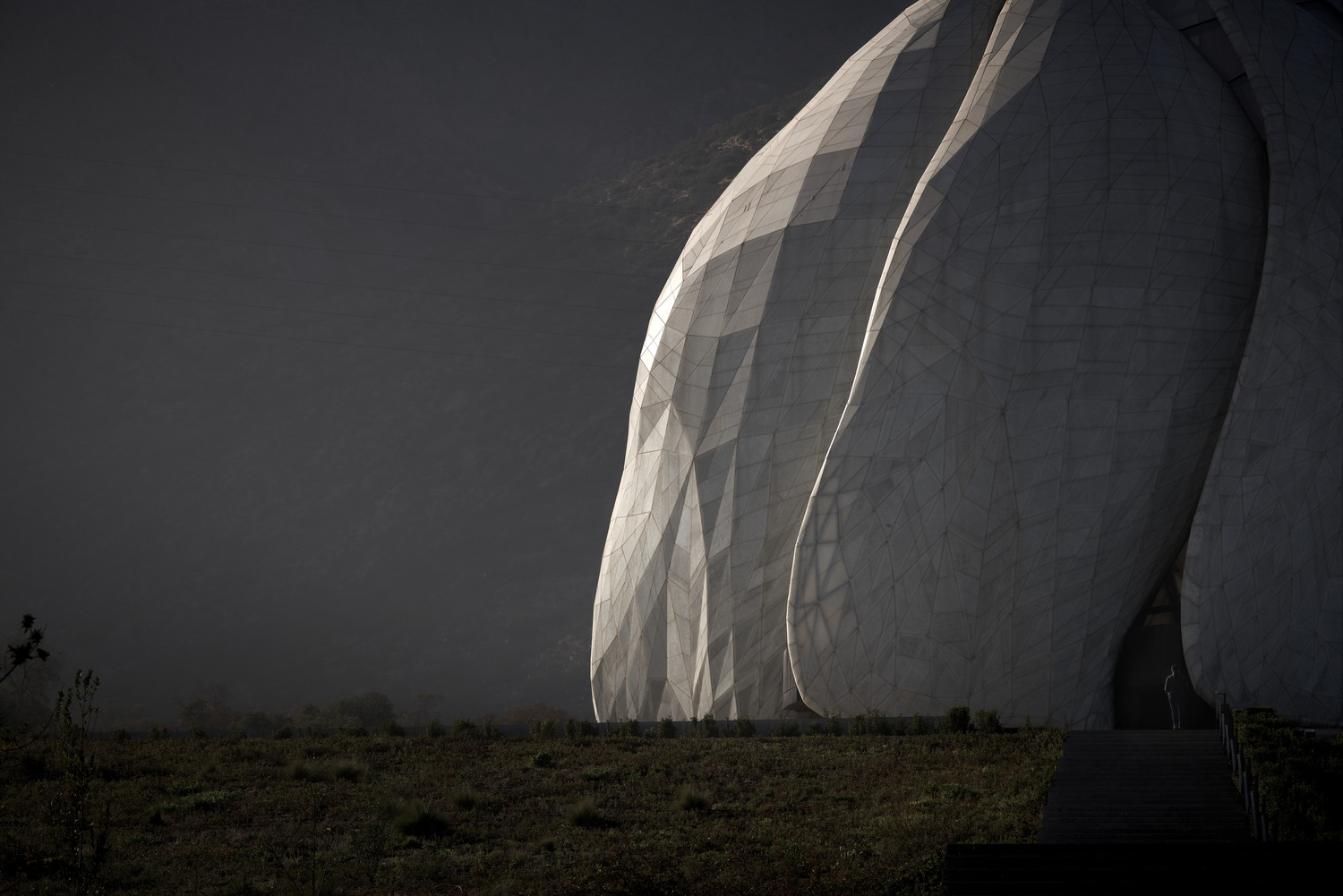 Hariri Pontarini Architects' Bahá'í Temple of South America receives the 2019 RAIC International Prize for Excellence in Architecture
​​​​​​​


TORONTO, October 28th, 2019 — The Bahá'í Temple of South America, designed by Siamak Hariri of Hariri Pontarini Architects, is the recipient of the 2019 Royal Architectural Institute of Canada (RAIC) International Prize. Awarded every two years, this world-renowned prize celebrates a single piece of architecture that is "judged to be transformative within its societal context and expressive of the humanistic values of justice, respect, equality, and inclusiveness." The RAIC received submissions from twelve countries across six continents.



Set within the foothills of the Andes on the eastern edge of Santiago, the Temple is designed to express a central tenet of the Bahá'í Faith – unity in diversity. Using embodied light as its inspiration, the Temple is composed of nine, gracefully torqued wings that are bound to a central oculus. Featuring an interior of translucent Portuguese marble and an exterior of cast-glass panels, the building shifts with a mesmerizing play of light, material and surface.
Once inside, the interior is a soaring space. Bathed in soft light that changes throughout the day, visitors are invited to sit in quiet contemplation and share in the communal act of being with one another.
Achieving the structure required to weather the rugged climate of this earthquake-prone region for the mandated 400 years was an extraordinary process that involved the hands of many: artisans, engineers and craftsmen from Canada, the United States, Europe and Chile; and countless global volunteers.



The Temple has grown to hold an important place in the Chilean community, hosting community clubs, youth outreach programs, and children's activities in partnership with public schools. Since opening in October of 2016, it has welcomed more than 1.7 million visitors from around the globe.
Expressing a faith of inclusion, the Temple is more than just a story of complex design, innovation, sustainability, and construction. It is the embodiment of a community's aspirations and a belief that even now, in the fractured 21st century, we can respond to a human yearning to come together, to connect to one another, and to participate in something that moves the spirit.



"We are deeply grateful and honoured… This award recognizes our 14-year effort to put form to the highest of aspirations. For this, we are very thankful to the RAIC and its jury. The RAIC International Prize celebrates architecture as part of the transformation of society– promoting justice, respect, equality, and inclusiveness. This along with the global reach of this award makes this acknowledgement especially prestigious and noteworthy. Above all, our gratitude extends to the Universal House of Justice (the governing body of the Bahá'í Faith) which was our unwavering source of guidance, courage, and constancy." – Siamak Hariri, Founding Partner, Hariri Pontarini Architects
"The architects resolve a challenging and prescriptive program for a new Bahá'í Temple near Santiago with a powerful form that creates a new landmark – a jewel – in a dramatic natural setting… The result is timeless and inspiring, a building that uses language of space and light, form and materials, to express an interpretation of Bahá'í philosophy and teaching that becomes universally accessible as a shared spiritual and emotional experience." – RAIC International Prize, Jury Comment
"A central purpose of the Bahá'í Temple in Chile is to promote the unity of humankind by gathering together people of all backgrounds in fellowship, worship and service. We are delighted that the RAIC recognized the contributions of the Temple to social transformation by honouring its architect with the 2019 International Prize."- Geoffrey Cameron, Director of Public Affairs, Bahá'í Community of Canada
The Temple was selected from three shortlisted projects by a six-member jury after site visits to each of the shortlisted projects. Hariri Pontarini was revealed as the winner at an awards ceremony and gala on October 25th. They are the first Canadian firm to receive this prestigious award.
For more information, please contact:
Kevin Boothe, Interim Director of Communications, Hariri Pontarini Architects
416 929 4901 x 331 | kboothe@hp-arch.com